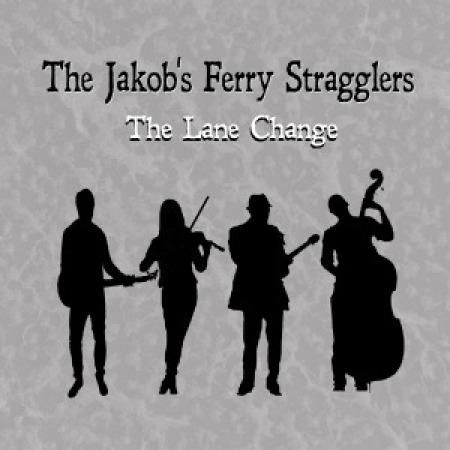 On a recent trip to Washington, PA, not far from Pittsburgh, I was fortunate to come across a recent CD by The Jakob's Ferry Stragglers (formerly known as the Weedrags). This old timey/bluegrass style quartet's 2015 CD entitled "The Lane Change" proved to provide a much appreciated lift of fresh and thoroughly engaging music for my drive home.
It kicked off with an upbeat original, The Legend of Gandy Grey, with a particularly catchy refrain. As I proceeded through the CD, I noticed several songs with very memorable refrains including Checkmate and the song, Scattered Pieces. The latter is a comment on the random nature of life events. "Scatter the pieces and study the mess". All original songs on the CD were written by Gary Antol.
The infectious nature of so much of this project points it squarely as a band that could literally rock a dance tent with nonstop energy. This is evident throughout the CD but perhaps best demonstrated in the traditional tune Sandy Boys, Mannington #9 (by Keith McManus), White Face (by Joe Thrift) and the original Old Red Hill, all of which feature almost trance like interplay between Libby Eddy's solid fiddling and Mitch Hall's deep, thumping claw hammer banjo work.
Gary Antol's guitar and mandolin work both shine throughout the entire CD but particularly so in Beaumont Butler's Blues and again on Sandy Boys. Ed Croft lets his rock solid upright bass soar to the forefront in well chosen solos in the Dixieland flavored Jangly Jack and in another strong dance selection, Take That Night Train to Memphis.
The Jakob's Ferry Stragglers also handled slower songs with equally stellar results as evident in the Jean Ritchie bluegrass standard, Blue Diamond Mines, featuring the lyrical and powerful vocals of Libby Eddy, and No Ash Will Burn, a beautiful waltz by Walt Aldridge. They added the very tasteful bass playing of David Pellow to this last song as well as on Old Red Hill and Blue Diamond Mines.
For fans of some of the more established string bands such as Big Leg Emma or Donna the Buffalo and those fans of great storytelling songs, you will certainly enjoy the music on the newest CD by Jakob's Ferry Stragglers, "The Lane Change".
Mark Panfil The author of this review is multi instrumentalist, singer and composer of folk and bluegrass music from Western New York, a dobro and harmonica teacher in that area and at the Augusta Heritage Center in Elkins, WV and writes for his own live Bluegrass music blog, www.BuffaloBluegrass.com.